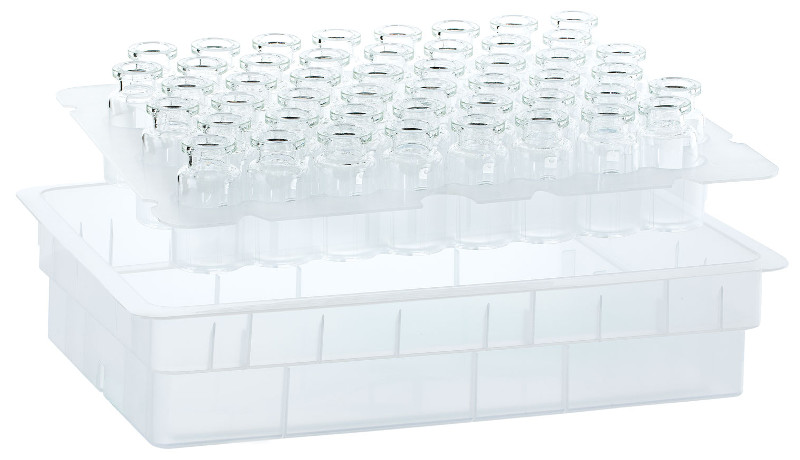 ISO 10R 10mL STERILE VIALS – READY TO FILL – READY TO USE
VOIGT GLOBAL DISTRIBUTION offers the highest quality ready to fill open sterile vials at to customers worldwide. Our latest addition to our complete ready-to-use complete vial kit packaging components are sterile ISO 10R 10ml vials, which have the following characteristics:
manufactured using clear USP Type 1 borosilicate FIOLAX® glass tubing
washed with USP WFI water
depyrogenated with heat
sterilized with ethylene oxide
tested for USP sterility and endotoxin compliance
Full USP sterility and endotoxin testing reports are available to all customers for cGMP and State regulatory compliance requirements. USP Type 1 clear FIOLAX® borosilicate glass is used to manufacture these vials to ISO-8362 specification.
Dimensions: 24mm diameter x 45mm height to the top of the crown opening with a standard 20mm finish. 20mm sterile vial flip cap seals and 20mm sterile vial stoppers are also available (sold separately). 
 BENEFITS OF ISO 10R 10ml OPEN STERILE READY TO USE – READY TO FILL VIALS
Lowered costs to the user by providing a pre-washed, sterilized, depyrogenated 10ml sterile vial. No additional preparation supplies necessary.
Documented USP sterility and endotoxin testing showing compliance to USP <71> and USP <85> standards.
Advanced preparation speeds delivery of the product to market distribution
The alveolar style tray prevents glass-on-glass contact during transportation and storage, thereby reducing the risk of cosmetic imperfections and damage during transit. 
ISO 10R dimensions are compliant with ISO 8362-1 standards, and are suitable for clients worldwide
Small tray size of 96 pieces reduces waste associated with larger trays, making these ideal for pilot prototype R&D applications, as well as small batch production by compounding pharmacies, cGMP outsourcing manufacturing facilities and CDMO.